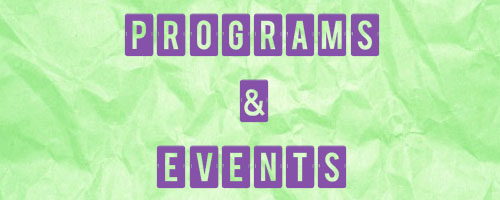 For all upcoming kids' programs, please take a look at our downloadable/printable calendars!
Youth Crafts 
 Stop in the Activity Room anytime between 4 and 5 to make a craft! Children under 7 must be accompanied by an adult. Please see calendar for specific dates.
Storytimes
Please see our Storytime page for details on our weekly storytimes for Preschool and Toddler age children! 
Other Upcoming Programs
Bookmark Contest
The library's annual Bookmark Contest will run throughout March. Wichita Falls students in grades K-8 may participate.
This year's catchphrase is: Unlimited Possibilities @ your library!®
Entries are due no later than Monday, March 30th, 2015.
Twenty students will receive a $10 gift card, presented during National Library Week (April 12-18, 2015).
An Evening with René Colato Laínez
Join us in room 205 on Tuesday, March 31st at 6:30pm
for an evening with Salvadoran bilingual children's author, René Colato Laínez.
He will be sharing some of his award-winning picture books.
All ages welcome!
Spine Poetry Contest
April is poetry month. In honor of that, we are holding a spine poetry contest for children ages 6-11.
Children will have from April 1st to April 30thto submit their entries at the Youth Desk.
1st, 2nd, and 3rd place winners will receive a prize.
Rules and information available at the Youth desk.
Early Literacy Parent Workshops
Parents and children are welcome to our literacy workshops on Saturday, April 4th.
We will be explaining early literacy to parents and providing examples and tools.
Toddler/preschooler session @ 11:00am.
Baby session at 1:00pm.
Sessions will last approximately 45 minutes. 
REGISTER BY PHONE OR EMAIL 940-767-0868 x4243 / danielle.marsh@wfpl.net
 Recycling Craft
 In honor of National Library Week's theme of "Unlimited Possibilities" and also in honor of Earth Day,
we will be holding a recycling craft program on Monday, April 13th.
During this day, come into the library to make a craft out of unused materials such as paper, felt, and more!
This event is best suited to ages 3-12.
PJ Time
This quiet storytime on Monday, April 20th at 7:00pm in the Activity Room.
Children from ages 2-6 years, their caregivers, PJs, blankies, and stuffed animals
are welcome to this event.
Earth Day Book Project
Join the library and future teachers from MSU's Sigma Phi Lambda
on Friday, April 24th at 3pm to celebrate Earth Day.
The library and the volunteers will help children in grades 1-5
make an Earth Day Book and learn more about our planet!